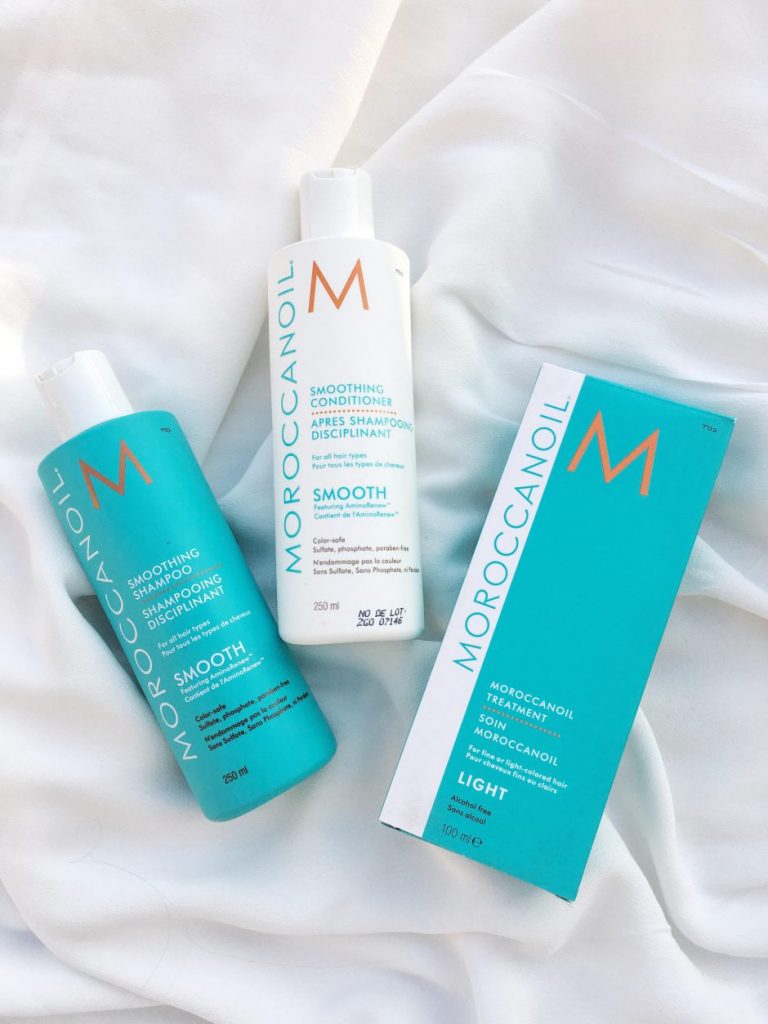 My hair is my life 🙂
Hair care takes up most of the time I devote to my beauty routine. In my opinion, hair is the most important part of our looks. I'm not afraid to spend lots of money on new hair oils and decided to treat myself to Moroccanoil treatment a few weeks ago.
What can I say about MOROCCANOIL SMOOTHING TREATMENT?
Before buying Moroccanoil products, I read hundreds of opinions and reviews. All of them positive and encouraging. At first, I wanted Moroccanoil Original Treatment Oil only – a lightweight treatment based on argan oil. Then I thought it was a better idea to get the whole Moroccanoil range considering the high price. Together with a shampoo and conditioner, I hoped for better effects.
The set I chose included:
Moroccanoil Smoothing Shampoo (250 ml),
Moroccanoil Smoothing Conditioner (250 ml),
Moroccanoil Treatment (oil for all hair types; 25 ml).
All the products packed in a nice, large bag 🙂
After the first use, I noticed a huge difference in the appearance. I really thought the treatment was effective. The shampoo lathers well and thoroughly washes the hair. The leave-in conditioner adds silky softness and facilitates blow-dry routine. The oil applied after washing, delivers shine and smoothness. The effects are definitely positive.
Although Moroccanoil shampoo, conditioner and oil are supposed to effectively smooth and beautify, my hair got frizzy after a few hours. I was so disappointed, paid so much money for results that aren't long-lasting. I got to work with beautiful, shiny hairdo and left with frizzy strands.
I decided to check why MOROCCANOIL ISN'T OK
It's because of the composition. It turns out that Moroccanoil series isn't natural. I started analysing the ingredients and got even more disappointed. Are you aware that Moroccanoil is made up of volatile silicones and only two natural oils? For such a price, I expected something more than a silicone serum. It gives good effects at the beginning yet they vanish after a while. Silicones do a lot of harm. Artificial colorants included in the products are also bad for our hair.
Summing up, I wouldn't recommend Moroccanoil to anyone. The products let me down, especially Moroccanoil Treatment Hair Oil – theoretically natural – turned out to be a failure. It isn't worth its price.
Too bad…