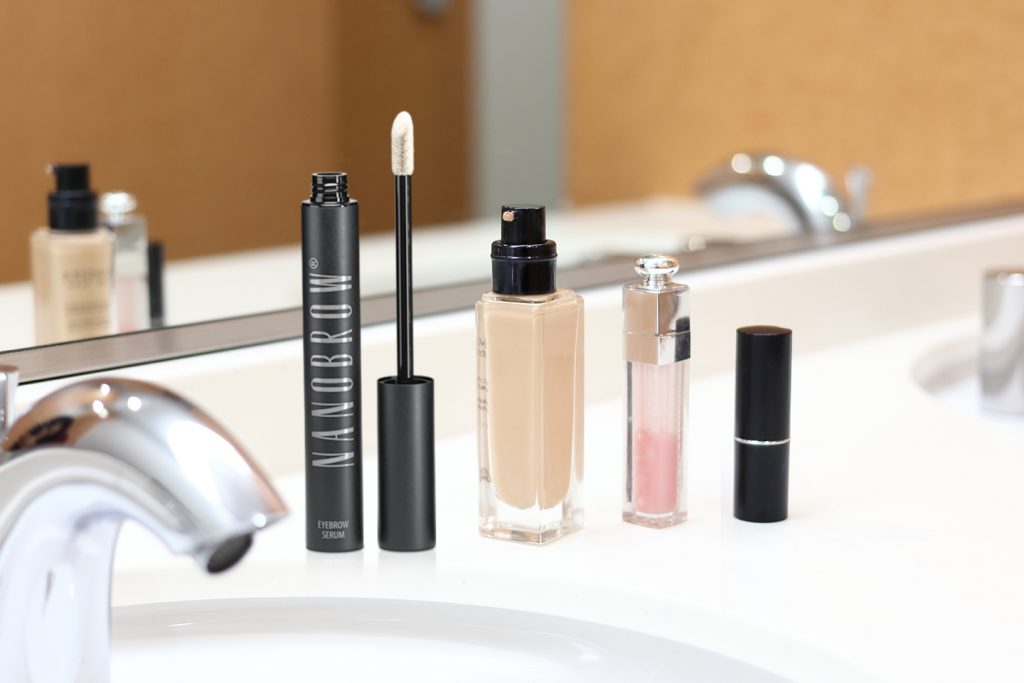 Today we talk through Nanobrow eyebrow serum. A magnet and hit of recent months. Everyone seems to use it. Everyone recommends it. What's the truth about this serum? I've decided to buy it, test it and write an honest review. I hope you'll enjoy the post 🙂
Ways to get gorgeous eyebrows
Brow care isn't a daunting task. The thing is that few of us give it enough attention. Most women struggling with overplucked or thinning brows reach for make-up products. Pencils, tints, waxes, pomades are supposed to help us get the desired look.
My dear ladies, change your thinking!
The appearance of eyebrows mostly depends on their condition. Healthier, stronger and nourished hairs mean better looking brows. Therefore, best ways to enjoy flawless brows include:
varied diet rich in nutrients
natural make-up products
gentle, damage-free make-up removal
vegetable oils and brow serums
The Best Eyebrow Care Products
The dilemma 'eyebrow serum vs castor oil' seems to be never ending.
Still, the choice depends on our needs.
If your eyebrows aren't damaged, you simply want to make them healthier, shinier and darker, castor oil is just right. I've used one from Nanoil and really love it. Even more so because it's also suitable for face cleansing routine, scalp and hair care.
However, if you are after fast and bold results, and your brows are damaged and overplucked, a professional serum makes a far better choice. I decided to put Nanobrow to test.
Nanobrow eyebrow serum
What's worth noting?
It's not the cheapest serum but I don't think it's a bad thing. Sometimes, paying more pays off when what you get is quality ingredients and desired effect.
The serum comes in an elegant, black bottle, it's a watery gel. It is colorless and has no irritative smell so there are no problems during application. On the other hand, Nanobrow serum is well absorbed.
This product is worth a shot when:
your brows are thin and barely noticeable
your brows are damaged
your eyebrows are thinning
you've got gaps in eyebrow line

Five facts you must know about Nanobrow
It's time for the main part of the review. What does Nanobrow include and how it works? It's a very popular enhancer but I like to judge products based on facts. Here are my observations 🙂
1. NANOBROW HAS OUTSTANDING COMPOSITION
Nanobrow serum is a combination of nearly 20 ingredients. Most of the composition is made of conditioning and growth-accelerating substances. The key ones include: soy sprout extract, ginseng extract, skullcap extract (baicalein), as well as panthenol, arginine, glycerin. Hands down it's a rich and remarkable arsenal of ingredients.
2. IT WORKS AFTER JUST SEVEN DAYS OF USE
I'm not going to tell you that you'll spot a gigantic improvement after a few days. You need to wait for thicker and fuller brows for around 3-4 weeks. However, it's possible to see a change during the first week. My eyebrows got stronger, shinier, bolder and I noticed new brows growing after a week, which made me believe that Nanobrow did work.
3. NOT ONLY CONDITIONS BUT ALSO MAKES EYEBROWS THICKER
The cosmetic market is brimming with brow serums which mostly nourish and moisturize. Nanobrow serum does this too but it's not the product's main purpose. It's just the means for getting gorgeous, strong and bold brows: Nanobrow serum first conditions, and then thickens and makes brows look fuller. I vouch for it.
4. IT LASTS LONG
When getting my Nanobrow, I thought that 5 ml wouldn't be enough and thus doubted if this was a good choice. Shockingly it turned out to work for a few months because a tiny amount is applied daily. This highly-concentrated formula has a very light consistency, therefore one portion you measure out with a comfortbale applicator is all you need to cover both brows. The serum stays in place; no dripping.
5. EASY TO USE EYEBROW SERUM
When speaking of application, let me go back to castor oil – it's thick and thus not so easy to use. On the other hand, Nanobrow is heaven when it comes to usage because it is light and has a very useful applicator. All you do is thoroughly remove make-up, apply the serum on both brows and give it a few seconds for absorption. That's it!
Summary. Would I recommend this enhancer?
In my opinion, Nanobrow serum is the best eyebrow care treatment on the market. No doubts about it. Nanobrow does work and I'm a proof for that. The ingredients making up the serum are brilliant; I analyzed them and compared with competitors. The price is adequate to the quality, results in record time and long-lasting formula.
If you want beautiful eyebrows, get Nanobrow too! 🙂 Visit nanobrow.us