Nanoil Argan Oil – my number 1 in body, face, and hair care!
Natural cosmetics, conscious skin care, caring for the environment – if these phrases are important for you then this review is for you. Here's a review on Nanoil argan oil that I've been using  for a month and I'm ready to share my verdict with you.
---
Nanoil Argan Oil- a cosmetic for demanding customers
Are you looking for premium-quality natural cosmetics? Do you expect more from products than just nice packaging? Do you care about the product's effectiveness and excellent results? These are all elements of conscious skin care. If you expect the best in skin care just like me – meet Nanoil Argan Oil. It's a great cosmetic even for the most demanding consumers, as well as for minimalists who don't like having too many cosmetics and prefer to replace them all with one versatile and effective product.
Nanoil Argan Oil, INCI: 100% Argania Spinosa Kernel Oil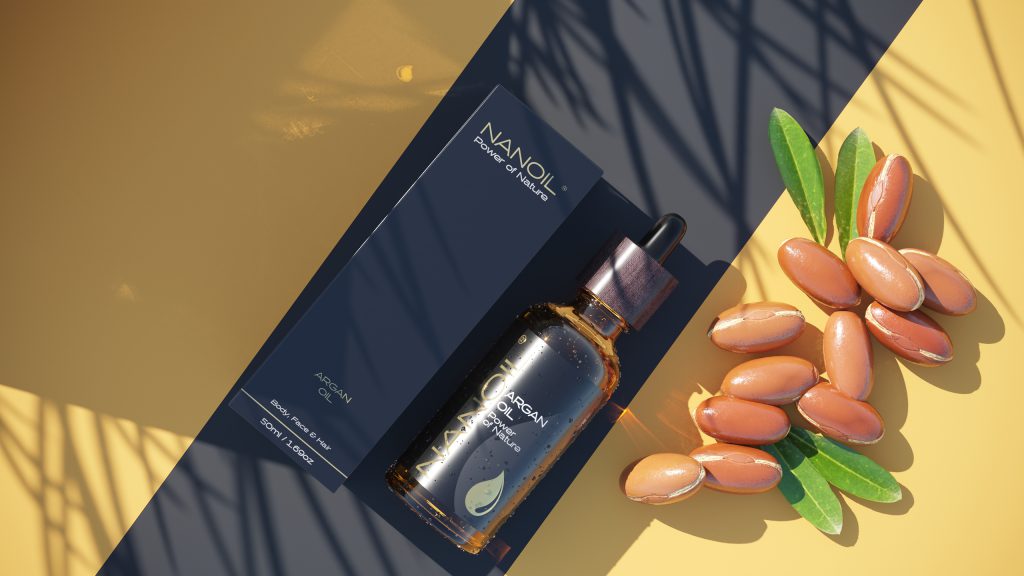 By choosing this oil, you can be sure that you're getting the authentic argan oil, which works perfectly in skin, hair, and nail care. It's unrefined and cold-pressed to make sure its extraction doesn't deprive it of its valuable ingredients, which provide it with such excellent beauty properties. Nanoil Argan Oil is an excellent choice that will definitely pay off!
Nanoil Argan Oil – characteristics
It has a velvety texture and a nice, subtle nutty scent. However, the smell doesn't stay on the skin or hair. The oil absorbs quickly, so it can be used even by people with thin hair that can get easily overburdened by other oils. Nanoil Argan Oil is also great for oily or combination skin care because it's not comedogenic and doesn't leave a greasy film on the skin. Make sure to use natural oils in moderation though, 2-3 drops are enough for the whole face.

What are the Nanoil Argan Oil's results?
As I mentioned, I have been using the oil for a month in various ways: on my body, face, brows, lashes, hair, nails, and even as a lip balm. It's very efficient, as a few drops are enough for one application. After a month, I noticed that haven't used up even half of the bottle yet. This is good news and proves this argan oil is very favorable in terms of price. It lasts for many weeks or even months of use. What results have I noticed?
STRONG AND SMOOTH HAIR
NO MORE PROBLEMS WITH HAIR LOSS
STRONG AND PAMPERED AND NOURISHED CUTICLES
FLAWLESS COMPLEXION FREE OF IMPERFECTIONS
TIGHTENED SKIN UNDER THE EYES
SMOOTH SKIN FREE OF CELLULITE
Argan oil is said to reduce the appearance of scars and stretch marks but 4 weeks wasn't enough time to provide such results. Nevertheless, I still hope the scar on my stomach will get less noticeable.
Can I recommend it?
Yes, with a clear conscience! Such quality for this price? Always!
Will I buy Nanoil Argan Oil again?
I will definitely not part with it, especially since boyfriend started using it for beard grooming. It's the perfect oil for everyone! :earn more about thr product: www.nanoil.us.
---