Is your skin easily irritated and reddened? Do you have broken capillaries? If you say "yes" to both questions then it's highly possible that your skin is couperose. What does it mean to you? Basically it means that you need to learn how to treat it and what care products suit you best. Sadly, it isn't as easy as it seems to be.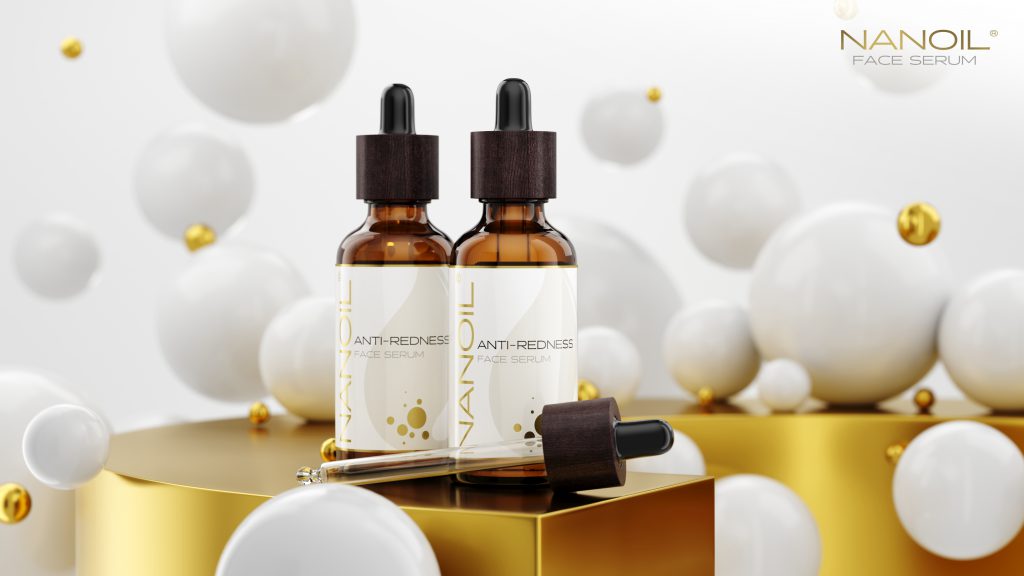 There are a few things that are common for couperose skin. First of all, rosacea and burning sensation, both of which happen to be very troublesome and hard to deal with. Secondly, the spider veins and acne vulgaris which is often closely related to skin inflammation.
Luckily, when exposed to the right treatments and ingredients, couperose skin does look great! My idea for broken capillaries and burning sensation? Nanoil Anti-Redness Face Serum. Here is a review.
Nanoil Anti-Redness Face Serum – basic info
size / 50 ml (1.69 fl. oz.); price / very attractive, or in other words, it's a good value; skin type / couperose skin, reactive skin, irritation-prone skin, acne-prone skin; skin age / all ages; feel / it's a lightweight and fast-absorbing serum
Nanoil Anti-Redness Face Serum – my thoughts about the serum
There are a few reasons why I wanted to give it a try. First, the price that, to me, is really attractive, especially after realizing how many naturally-derived extracts the product is made up of. Secondly, users seem to be satisfied with the results. If my memory doesn't fail me, I haven't come across any negative review or comment. Thirdly, I'm truly impressed by the list of ingredients, but I'm going to explain that issue later.
I ordered Nanoil Anti-Redness Face Serum on the official website which is nanoil.us. To my surprise, it was delivered pretty quickly. Oh, and there is one thing I'd like to tell you. Nanoil offers a whole range of beauty products, which includes body products, hair products and face products.
Nanoil Anti-Redness Face Serum – ingredients
To be honest, the components of Nanoil face serum impressed me. The whole formula looks as if it was really well-thought-out. As far as I'm concerned, the serum is made up of a few plant extracts that bring relief and target specific skin concerns. Here are the super ingredients:
Linden tree extract – soothes the skin and strengthens the walls of capillaries.
Cypress cone extract – strengthens the walls of capillaries, reduces redness and prevents inflammation.
Chestnut bark extract – reduces and prevents spider veins.
Boerhavia Diffusa (Punanava) root extract – fights free radicals, evens skin tone and reduces wrinkles.
Nanoil Anti-Redness Face Serum – use
Take off makeup
Wash the face using some mild cleansing foam dedicated for couperose/redness-prone skin
Wipe the face with a tonic or floral water
Apply a portion of the face serum (just a few drops)
Apply a face cream
And that's it. The serum can be used twice a day, morning and evening. This is how you help your skin calm down and relax at night, and remain protected from external factors throughout the day.
Nanoil Anti-Redness Face Serum – effects
Not only does the face serum target weak capillaries but it also nourishes and improves the appearance of skin. That's why after just one application skin becomes smoother, nice to the touch and moisturized. When used on a regular basis, Nanoil Anti-Redness Face Serum reduces redness and relaxes skin. After a few weeks, Nanoil serum makes the walls of capillaries stronger which visibly reduces the risk of vascular lesions and redness. On top of that, the lightweight formula penetrates skin quickly, without leaving any oily or sticky feel on the skin's surface.