It's hot outside, blistering heat, we feel like doing nothing. We definitely don't feel like blow-drying and styling the hair. On the other hand, our hair is exposed to the sunlight which quickly leads to damage and loss of water. How to care for strands effortlessly and give them super nourishment and effective sun protection? I'll tell you about my summer hair care and hope you'll make use of my ideas!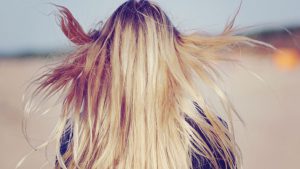 Summer hair care: be gentle!
Hot summer isn't the best time for coloring, bleaching and other procedures which weaken the strands. If possible, don't color your hair because the sunlight will make it lighter anyways. We suggest trying color-reviving masks which are more gentle on the hair, enhance the color and don't cause any damage. You can use them even once a week or every other week to keep the color from fading.
Summer hair care: let hair air-dry
When it's super hot outside, drying the hair with a hot dryer isn't a good idea. The sun deprives it of water so let's not make the situation worse. Let's simply allow it to dry naturally. Many celebs like to air-dry the hair in the summer and they only secure it with a precious hair oil or spray-on conditioner. It's the best thing you can do to help your tresses in the summer.
Summer hair care: use leave-in conditioners
In the summer, hair needs intensified protection but it must be something that won't weigh it down. You can try bi-phase (water and oil) conditioners which are perfect for this purpose: you apply it on damp washed hair but it can be reapplied whenever you feel your strands need a moisture boost. I love Nanoil Liquid Silk Bi-Phase Conditioner – a lightweight yet deeply nourishing and beautifying product which is best for taming my unruly strands, keeping them shiny, sleek and perfectly moisturized. I carry it in my bag and use it anytime I want to. 🙂
Summer hair care: put oil on hair ends
Do you use hair oil treatments? Did you know that oils are great for protecting hair ends from sun damage? It is possible because they create a microscopic layer on the hair surface protecting it from the external aggressors and toxins. On top of that, many of them are natural sunblocks. Apply natural oils on hair ends in the summer (or from mid-lengths if you've got very dry strands). Again, Nanoil turns out to be a good choice: the brand offers unrefined, pure oils with the Ecocert mark.
Let me know how you care for your hair in the summer! <3