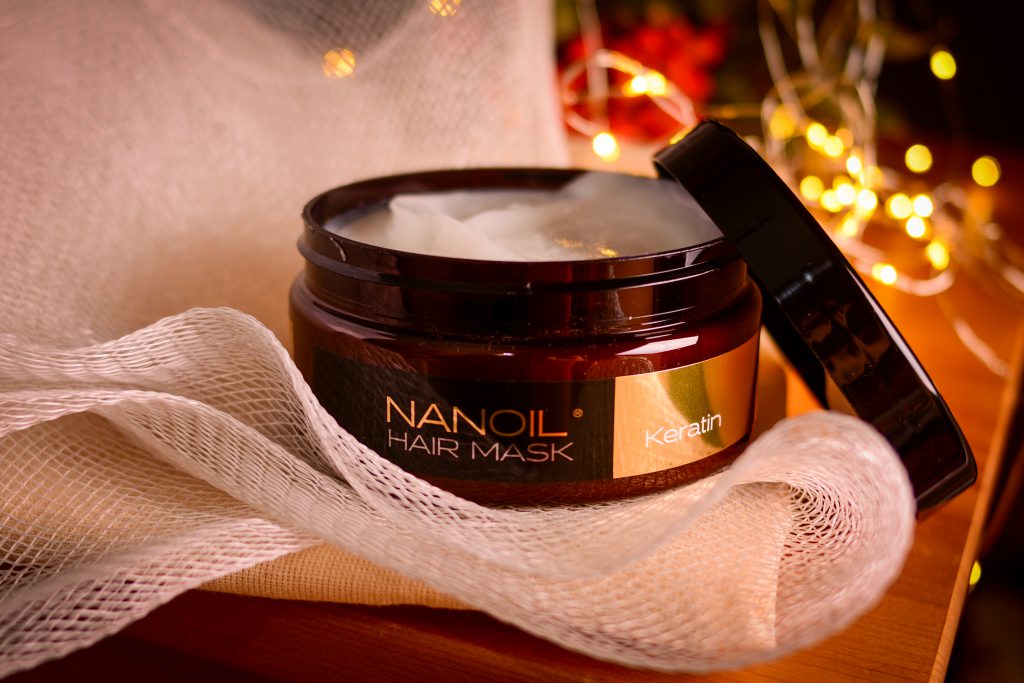 I've recently laid my hands on the best-selling hair mask launched by Nanoil. It seems that this keratin-rich product is just stunning because all I came across is positive reviews and recommendations given by hairdressers and beauty bloggers. Obviously, I couldn't resist myself from buying this marvel! Now I can share with you my thoughts about Nanoil Keratin Hair Mask. Is it really so amazing?
REVIEW: Keratin-rich hair mask from Nanoil
PACKAGING AND SIZE
A 10 fl.oz. / 300 ml is quite an amount and this size translates into plenty of keratin treatments, especially after realizing that you need to scoop out just a small portion of the product per application. The packaging is lovely! I liked it from the very first time I saw it. To be honest, the design of the majority of hair masks available in drugstores isn't… the most flattering so to say. So, Nanoil packaging is black-and-gold which appeals to my taste.
TEXTURE
Apart from lasting long, Nanoil Keratin Hair Mask texture is pleasantly smooth. Additionally, it stays on hair so you wouldn't stain your clothes. Also, it's not thick so you don't end up with flat hair that weights extra load. This means that this Nanoil keratin mask is also suitable for fine and thinning hair.
FRAGRANCE
What a marvelous fragrance! <3 Girls, it's so exquisite! And it lingers on hair for soooo long that it gives you the constant feeling of fresh and nourished hair. I like it when my strands smell nicely every time I leave the hairdresser – it always puts me in a good mood. And this is the very feeling that Nanoil Keratin Hair Mask gives me. I know that this isn't anything big, but sometimes it feels good to indulge yourself with small pleasures, right?
INGREDIENTS
And this is where all the magic happens. It can't be denied that ingredients are what is the most important about a product, and Nanoil Keratin Hair Mask doesn't fail you in this case. It owes its effectiveness to two ingredients. Hair needs both of them just like we need oxygen! And I'm talking about:
liquid keratin, which in fact is hydrolyzed keratin. Hair is made up of this protein so when strands start getting more and more damaged, you have to REPAIR THEM immediately! And the best repairing agent is hydrolyzed keratin that penetrates hair deeply and builds itself into the gaps. Simple and amazing.
pro-vitamin B5, which in fact is known as panthenol which is another essential substance that hair needs to stay healthy and strong. I'm telling you, HAIR LOVES IT! I can summarize the effects of panthenol on hair as improved smoothness and shine.
APPLICATION
Easy-peasy! You have to apply this Nanoil product just like any diy hair mask. This means that you have to wash the hair, remove excess water and apply a portion of the product. Just 20 minutes will do the trick. Remove and style the hair the way you like. Let me just add that for better effects you can put on a foil cap.
EFFECTS
I can describe you the effects using just a few words:
strength
shine
damage repair
perfect health
resilience
Nanoil Keratin Hair Mask gives you celebrity hair! After just a few uses you will feel your locks getting healthier and more beautiful. And the best bit is that hair wins some super protection from damage too!
FINAL REMARKS: Would I recommend Nanoil Keratin Hair Mask?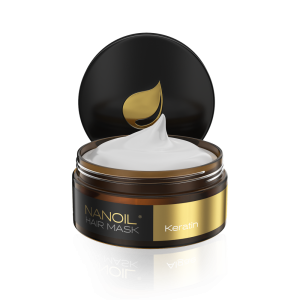 You bet, I'd recommend this keratin hair mask! You won't be able to achieve these effects with any other hair mask. Nanoil Keratin Hair Mask doesn't only improve the appearance of your hair almost overnight, but also within 30 days it will make your strands healthier and nourished. I'm giving this product the highest rate!
The cost of Nanoil Keratin Hair Mask is fair, at least this is what I think. Honestly, to me this is a cost-effective hair product. If you want to learn more about Nanoil Keratin Hair Mask, go to nanoil.us and try it out yourself!