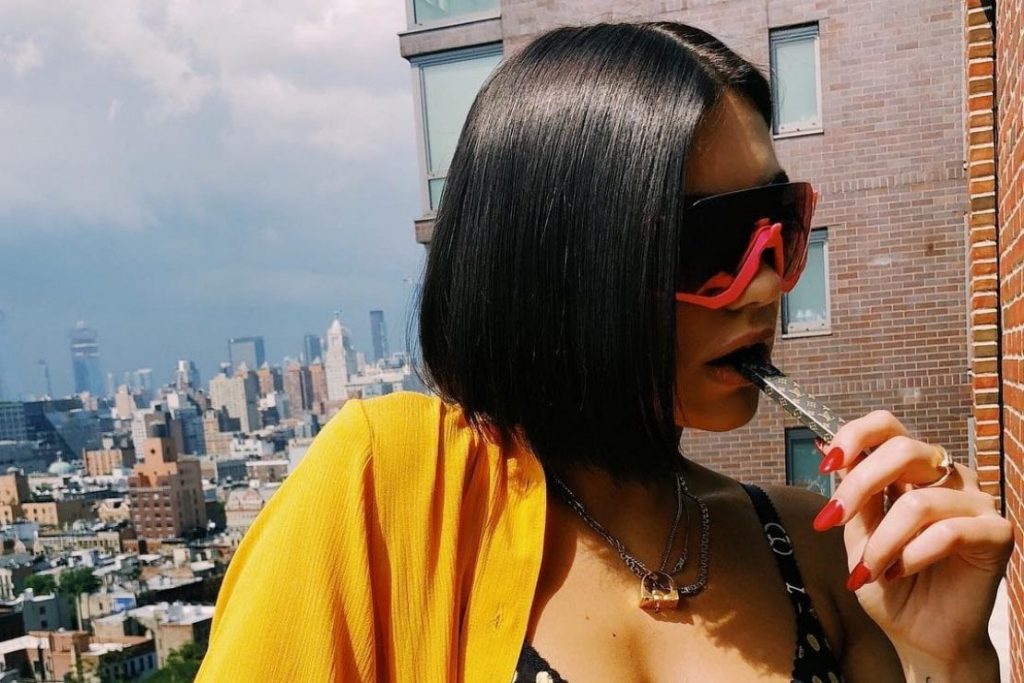 Recently someone told me my hair looks so epic smooth and sleek. I looked at my old photos and came to conclusion that it's actually true as my strands didn't use to be so glossy and silk-like. Would you like to know what my hair care looks like and why my hair stuns others? Here's my tried and tested way to get glossy glass hair!
Above all, the secret of beautiful hair is its health. Believe me that pretty hair cannot be even slightly damaged. That's why I mostly regenerate, nourish and moisturise my tresses, and (occasionally, when I really need that) I get the desired look with some hot tools.
MY WAYS TO AMAZE WITH GLASS HAIR
Step 1
Pre-washing hair oil treatment
Oils make up the most important part of my hair care, giving this mind-blowing shine, nourishing and strengthening from within at the same time. Their effect on scalp is remarkable too as they soothe irritations and restore balance. All that translates to stronger, thicker hair which grows in volume instead of falling out.
Which oils I recommend for hair care? It's a tough question as we must suit them to our individual needs. At first I used argan and cottonseed oils because my hair was damaged. Now I've switched to sweet raspberry seed oil to upgrade the gloss and keep hair moisturised.
Currently, I no longer do long-hour treatments but they're good to perform if you're a hair oil beginner. Now I'm fine with raspberry oil applied to hair for 15 minutes (or a bit longer when I'm not busy).
Step 2
Gentle hair wash
If you want glass hair, you must be very gentle towards your strands. Whenever you either pull or tug it, you weaken the follicles, split the ends and break the hair. And, as we know, damaged hair means dull hair, right?
Another thing you can do to keep hair healthy and glossy is washing it the right way. Hair experiences damage during a wash very frequently. That's why I recommend you to pick delicate detergent-free shampoos and wash hair twice in a row (always make sure you thin the shampoo with water).
Speaking of washing, I must mention blow-drying routine. I've got an ionic dryer and always use cool airflow because heat leaves hair dry and damaged. I suggest blow-drying with a round brush which gives the desired smoothness without torturing hair with a flat iron.
Step 3
Hair lamination
The best way to get silky smooth glossy hair is at-home gelatin plus conditioner treatment I've been using for a few years.
What makes it so effective? Hair needs protection as it's naturally delicate and exposed to damage. A gelatin mask forms a thin protective film on hair surface which smoothes out, closes scales, seals the cuticle layer, locks in water and valuable nutrients, as well as gives the wanted shine.
The time has come to answer the burning question: how to carry out gelatin hair treatment at home? Even though it seems complicated, the procedure is easy. I prepare my gelatin mask in a few minutes: pour 3 spoons of warm water over a teaspoon of gelatin, mix well, after it cools down, I add a bit of my fave conditioner. Finally, I apply the mixture to hair, secure with a cap and leave in for 45 minutes. To finish off, I rinse it and blow-dry the hair. That's it! Sleek hair's done.
Why don't you try it?