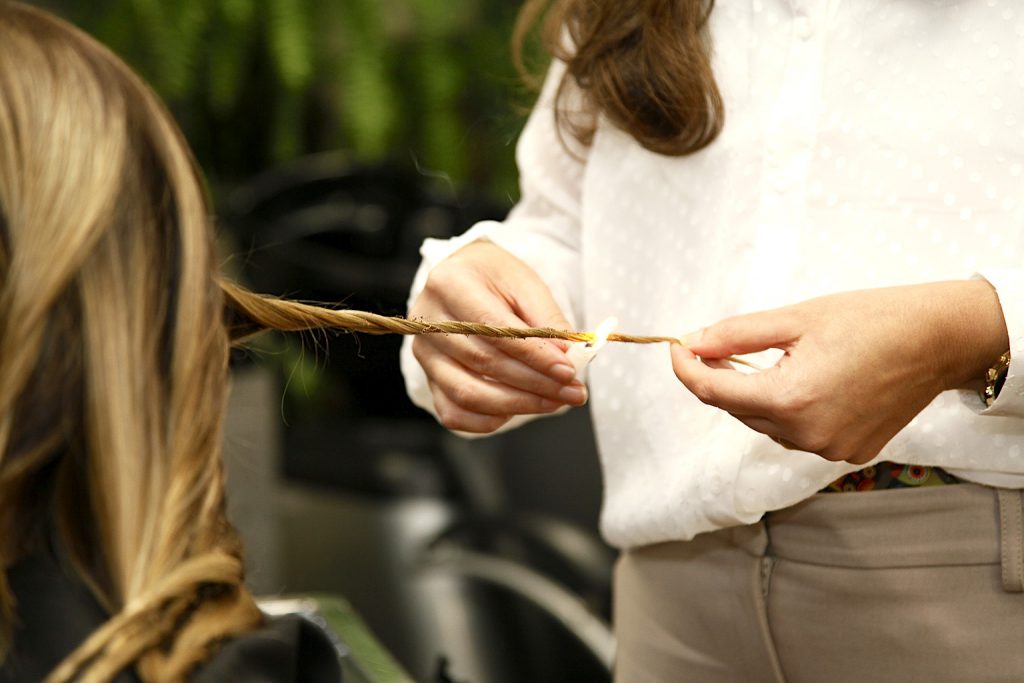 Yes, you see it right. A special topic on the blog. Popularized by Victoria's Secret Angels, velaterapia – burning hair ends over a candle. What's velaterapia? Is it worth your time? Enjoy reading!
Burning hair isn't a new trend. It was done for a long time but then it was forgotten. Velaterapia was most popular in the 60s in South America. Brazilian women were crazy about it. Victoria's Secret Angels brought it into vogue again. First, it was Barbara Fiahlo who said the method reinforced her hair. Then, Alessandra Ambrisio's video was a hit on the Internet.
WHAT DOES VELATERAPIA INVOLVE?
To be honest, there's not much to explain. As I've mentioned, the treatment involves burning hair tips with a candle. It aims at eliminating split and brittle ends without cutting the lengths down. The name comes from the Portuguese word 'vela' – candle. Doing the velaterapia at a professional hair salon is the best idea. Here's velaterapia – step by step.
A hairdresser twists sections of hair.
Next, s/he burns all flyaways that surround each section.
Burnt hair is removed with a natural-bristle brush or hands.
The hairdresser applies a mask that is better absorbed thanks to open cuticles.
The fire hair treatment is supposed to make hair healthier, silky smooth, stronger and less prone to tangling. Apparently, burnt ends are less prone to splitting than tips that are treated to scissors.
Burning hair with a candle sounds like some punishment, not a beauty treatment. Professionals have been warning us against the harmfulness of heat that makes hair lose its water, leads to dryness and breakage. Now, after giving flat irons and curlers away, the velaterapia comes out. Contrary to heat tools, the fire and temperature are supposed to be the remedy for all hair problems: split ends, roughness, hard styling, etc. Is this the truth…?
One thing you should know. Due to the popularity, the treatment isn't cheap. How much is velaterapia? It depends on the length and density of hair and consequently – on the time the treatment takes. A hairdresser may devote even 2-3 hours to burning the ends. That's why, it's often more expensive than the keratin blow-out.
Don't do it at home!
Obviously, you can save money cutting hair ends down at home. After all, you just need a candle and time. I advise against it, though. You may end up with burning your hair down totally and burning yourself. I definitely recommend letting a specialist do the job if you feel like giving the treatment a try.
Am I going to go for it? I think velaterapia isn't for me. In my opinion, the treatment is destructive as the hair is fragile. Besides, I wouldn't bear that awful smell of burnt hair… Have any of you tested the treatment? Leave your comments!