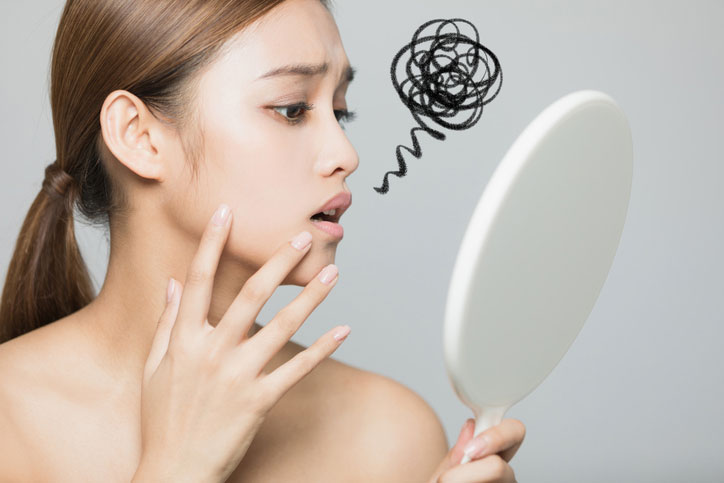 You put a lot of effort into caring for the complexion every day, buy top products, get facials at the salon, read various beauty guides, use multi-stage morning and evening skincare routine… Despite all that, your skin still looks far from perfect? If so, this post is made for you. Read about the biggest skincare mistakes that we all (un)consciously make!
1. Incorrect make-up removal
First things first: not taking make-up off before sleep is the worst thing you can do to your skin. I hope you all know that by now. Let's get to the key things about make-up removal: suitable products and the technique. If you merely wipe a cotton round soaked with micellar water across the face and that's it, it's time to make changes! The correct procedure looks as follows:
Removing make-up with micellar water is the first step. Don't rub the eyelid skin or lashes, though. Close the eyes, gently press the cotton round on the eyelid and wait until make-up is dissolved.
Another step involves washing the face with water mixed with a face wash, e.g. gel cleanser. It is essential to get rid of the make-up residue and to rinse the micellar water which cannot be left on the skin (it is likely to clog the pores).
A toner is the last step. The way of using it matters a lot: ideally, you should get it on the hand palms or directly on the face instead of soaking a cotton round with it. This stage is extremely important because toner promotes absorption of other products (serum, moisturizer). One more thing to remember: don't rinse the toner.
2. Not using sun protection is another popular mistake
The latest research tests are clear: a sunscreen must be used no matter the season of the year or temperature. The reason is very simple: we are constantly exposed to solar radiation. More and more cosmetics companies expand their offer with SPF moisturizers so you will easily find a perfect one for you!
3. Scrubs – to use or not to use?
Definitely use them! An exfoliant clears the skin pores, exfoliates dead cells, and prevents comedones. You must be careful, though. Less means more when it comes to exfoliating the skin. You can use your exfoliant once a week or twice a week if your skin is oily. Doing it more often dehydrates the complexion and doesn't give it enough time to bounce back. Also make sure you choose the right product for your skin type. Enzyme exfoliants work well for dry and sensitive skins, physical scrubs are best for aging, combination and oily complexion, while chemical peels are recommended for treating acne.
Do you make any of the skincare mistakes? I hope your skin will get better after incorporating tips from the post! Let me know about any other popular mistakes you are aware of.