Some time ago a face serum wasn't my first-choice skincare product that I'd use on a daily basis. Today I know how wrong I was – there are so many skin benefits hidden in this cosmetic…
No matter the skin type – normal, oily, sensitive – face serum is able to handle various problems. This applies especially to the sensitive complexions, prone to redness and spider veins. It's almost obligatory to use a soothing face serum daily when your skin is couperose. The tricky part though is to find the right product for this skin type – it isn't easy.
But I'm here for you! I've prepared a list of my top face serums for couperose skin that I've been using in 2021. Read on and check which product is the best in my opinion, and why.
5 Reasons Why Face Serum Is Superior to Other Skincare Products
It was my beautician who explained to me the importance of a face serum in a beauty routine. I used to think that this is just another unnecessary cosmetic that would extend my evening routine, stealing more of my precious time every day. It turns out that I was wrong because a face serum:
is rich in nutrients and active substances
penetrates skin deeper than other products
delivers quick effects
helps other care products deliver better results
targets specific skin concerns
My Top Products of 2021: Face Serums for Couperose Skin
1. Nanoil Anti-Redness Face Serum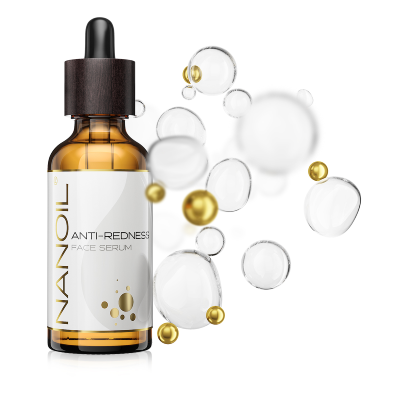 The very first thing that caught my attention was the size – rarely do you get as much as 50 ml. Price is another thing that I like about Nanoil soothing serum, and ordering it was one of the best decisions I've made recently. The serum works from the first application. Immediately my skin became less irritated. Within a few weeks the redness, spider veins and other blemishes started fading away too. Now my skin is clear and deeply moisturized – I can feel it.
I'd also like to add that Nanoil Anti-Redness Face Serum made my skin stronger, and by saying that I mean it's no longer reactive. Now, even eating spicy dishes doesn't leave me with reddened skin – what a relief! After analyzing the list of ingredients, I noticed that Nanoil soothing serum contains a potent antioxidant that helps skin remain supple and youthful. I usually apply Nanoil Anti-Redness Serum twice a day, putting two more drops on my face before going to bed. My skin has no problems with soaking it up, so I can apply the serum in the morning and do makeup later. If you want to learn more about it, go to nanoil.us
2. Cosrx Pure Fit Cica Serum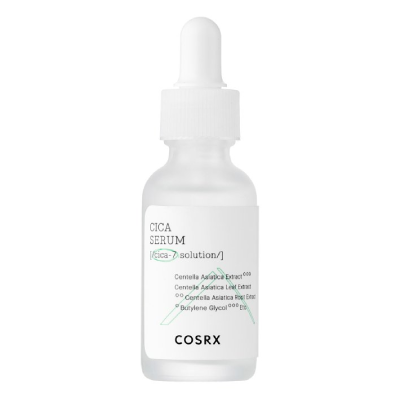 I like Korean cosmetics. I can't even remember when was the first time I came across them, but anyway, as I said, I do like them. And Cosrx Pure Fit Cica Serum is one of those products that my skin loves (A side note: Have you tried their sunscreen and snail slime essence?). This serum is marketed for sensitive skin, but I'm sure it also suits couperose skin. Like Nanoil serum, Pure fit Cica Serum is able to give immediate effects. Once it penetrates epidermis, skin becomes miraculously soothed and moisturized.
Another reason why I like this product is its ability to slowly reduce inflammation. When used for a longer period of time, Cosrx Pure Fit Cica Serum makes your skin more resistant to irritants such as low temperatures, air conditioning or strong wind. Although the serum is thick, you don't need much to cover the entire face with it. It works well no matter the time of the day applied. This soothing face serum is available online and I order it from a store that currently offers a discount.
3. PAI Instant Calm Aster Maritime & Avoine Byzantine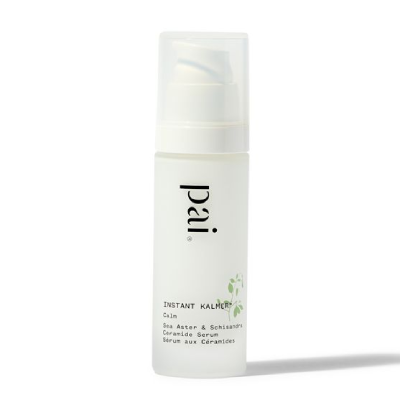 If you count on long-lasting effects, then choosing PAI Instant Calm Aster Maritime & Avoine Byzantine will be your best bet! Even though you won't see the results overnight, this soothing serum knows how to do its job. What does it do? Well, first of all, it minimizes facial redness and promotes even-looking complexion. With time skin gets glowing and healthy. Do I need to add that it also refines skin's texture and delivers moisture? I think, I don't need to 😉
This serum comes with a pump, not a dropper like most face serums do. For this reason, you need to get a little bit more product per application than when you have a dropper at your disposal. The texture is quite dense and you need to give AI Instant Calm Aster Maritime & Avoine Byzantine some time to penetrate the skin. This is why I use this product only for my evening routine – I won't definitely reach for it when I'm in a hurry. It costs a little bit more than the above anti-redness serums, but the price isn't very high.
4. REN Evercalm Anti-Redness Serum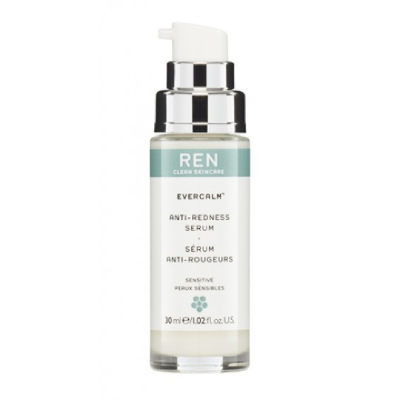 It's time for my last suggestion for you. REN Evercalm Anti-Redness Serum is formulated with ingredients known for repairing weak blood vessels, which obviously eliminates the problem of spider veins and facial redness. I can also add that this care product makes skin stronger, meaning that it no longer develops a reaction to various external aggressors that shouldn't even disturb it in the first place. The good news is that it even prevents wrinkles.
Despite giving amazing effects, I don't really like the texture. I find it too heavy and it takes it so much time to get through the epidermis. I think I don't need to mention that it doesn't work under makeup, right? Actually REN Evercalm Anti-Redness Serum ruins my makeup completely, and that's why I incorporated it into my evening routine. The last thing to mention – this is the most expensive face serum included in this rankling.
Congrats! You managed to come to the end of the list of my favorite face serums of 2021. If it wasn't for these soothing care products, the condition and appearance of my skin wouldn't be so good. Now it's your turn – choose what seems to work best for you and enjoy flawless complexion, even if it's prone to redness and spider veins. Don't forget to let me know which face serum for couperose skin you've picked.
Do you use face serums on a day-to-day basis? If so, which ones?