Good morning, everyone!
I hope that when you're reading this post, there is a beautiful day, just like it's today in my hometown. This amazing weather inspired me to write a new post – a post on hair care. Today I'm going to focus on damaged and frazzled hair that needs some repair. The easiest and the quickest way to bring limp hair back to life is regular use of hair masks. How do I know? Because I've tested many repair hair masks.
Being on my Action-Regeneration Mission
I blame dyeing and heat styling for damaging my hair. Actually, I don't even know when the condition of my strands started to deteriorate. I guess it was a kind of a long process that I initiated and carried on by not paying attention to what I was really doing, making my hair get a tiny bit weaker day by day. Eventually, I ended up with hair looking more like an old, worn-out wig – terribly thin, brittle and falling out excessively. And the tips? Split and dry. Instead of having a beautiful voluminous mane, I had dull and frizzy hair that clearly craved for help.
I realized I had to do something about it. I went on to my personal Action-Regeneration Mission, turning to the home remedies that I knew.
Hair masks for damaged hair
The critical step – apart from cutting down on a flat iron and dyeing – depended on introducing hair masks to my daily regimen. I chose this cosmetic because I knew that it delivers the best results, getting inside the hair, where it is needed most. Quickly I realized that using just a random hair mask wouldn't get me anywhere.
Let me put it straight: when strands are brittle and split, it means that they need proteins. In other words, they need ingredients that are able to reverse the damage. This is exactly why masks designed for damaged hair are the protein masks. What protein should you look for? For keratin, of course. Why? Because your hair is made of it.
The best keratin hair masks
Was I lucky enough to find the ideal keratin mask that strengthened and regenerated my damaged hair at the first try? Not really. The truth is that I tested over a dozen different products before I succeeded at finding the right one. Now I have my favorite hair mask, which I use every time when I feel that my strands need something to regenerate it quickly and effectively.
Here are my TOP hair masks for damaged hair. I truly liked them all and I can wholeheartedly recommend them to everyone who is looking for some quick solutions.
[MY ABSOLUTE FAVE]
1 NANOIL KERATIN HAIR MASK
If I were to give you just one mask, I'd say go for Nanoil Keratin Hair Mask. It slays! It's absolutely amazing.
This is a protein-rich formula, which is something that damaged hair is fond of. Interestingly, the form of proteins used here isn't ordinary – Nanoil mask owes its power to hydrolyzed keratin. Thanks to keratin's lower molecular structure, hair has no problem with absorbing and transporting it deep within the shaft. This results in a faster effects that take the form of repaired hair structures. The formula also includes panthenol (provitamin B5) that handles hydration. Nanoil Keratin Hair Mask is lightweight, and this quality makes it easy not only to spread the product evenly along the lengths but also to rinse it out.
Nanoil Keratin Hair Mask regenerates, rebuilds and strengthens hair. The best bit is that you don't have to wait long to see the effects because just one application suffices to reveal smooth, soft and lustrous strands that are easier to comb and resistant to frizz.
But this is not the only mask for damaged hair that I want to recommend today.
2 DAVINES NOUNOU HAIR MASK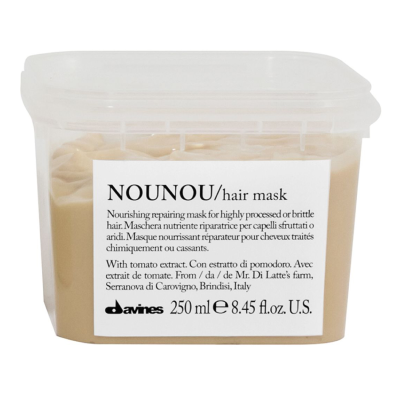 When I was at the very beginning of my hair repair "adventure" (before buying a hair mask), I asked my hairdresser for some recommendations and suggestions. She advised me to buy the Davines Nounou Regenerating Hair Mask. And you know what? For a very long time it was my favorite mask. Now, when I think about it, I see some drawbacks that this product has, e.g. the price.
This is a nourishing mask designed for dry – even dehydrated – and weak strands. Apart from delivering nutrients and moisture, it also tames unruly wisps and increases manageability thanks to… tomato extract! After doing my own research I found out that this uncommon constituent has an incredibly positive effect on hair. Davines Nounou Hair Mask also contains jojoba oil, olive oil and vitamin E. This is a cream texture, fairly thick, so you don't need much to smooth your hair out and tame it.
3 KÉRASTASE RÉSISTANCE MASQUE THÉRAPISTE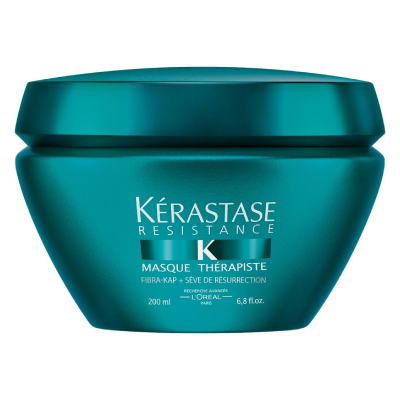 I consider Kérastase as one of the best cosmetic brands producing amazing hair care products. I knew that their hair mask for damaged hair wouldn't let me down. That's why I wasn't reluctant to spend so much money on their hair treatment.
Kérastase Résistance Masque Thérapiste is a repair mask combining a couple of interesting ingredients: wheat protein, amino acids, glycopeptides and an extract taken from a plant native to Africa. Sounds promising, right? Excuse me for using this metaphor but it looked to me that my hair rose from the dead after applying this mask. Even though I had to wait a month or so to see the full repair, I think it was worth the wait. However, if you look for some quick effects instead of deep repair, this isn't a product for you.
4 GLOBAL KERATIN LOCK ME COLOR MASQUE
If color treatment left you with brittle and weak hair, you may be interested in this product – Global Keratin Lock Me hair mask. This hair rescuer was designed especially for color-treated strands to regenerate and improve their appearance. And you know what? This product knows how to do its job, provided that you introduce it to your regular hair regimen.
In this small jar you get a creamy formula free from chemicals and other substances that you don't want to put on the hair. Global Keratin Lock Me has a deeply nourishing effect, prevents dryness and protects from UV light. What's more, it reconstructs bonds in the hair structures to combat brittleness and splitting. Bad news for those who are currently short on money, Global Keratin Lock Me is one of the more expensive masks I know.
And that's it for my TOP masks for damaged hair.
Naturally, on my hair repair mission I tested more products but these four are the ones I like most. I'm curious about your top picks for damaged hair. Do you have your favorite hair masks? Products that stole your heart?
Let me know in the comments!